Clenbuterol
You might be surprised to learn that an asthma medication can be used to great effect by bodybuilders. You may have heard the nickname 'Clen' mentioned by the big guys at your gym. What they are referring to is a bronchodilator known as Clenbuterol. Long used to treat chronic asthma, Clenbuterol is popular among bodybuilders due to its inherent fat-burning properties.
Clenbuterol has a way of releasing stored fat in a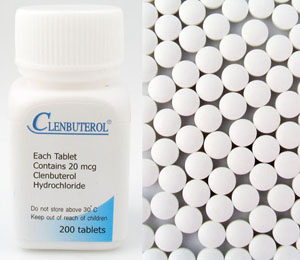 remarkable way. Of course, it is also a very powerful supplement and one that must be used for relatively short bursts of effectiveness. Used too much or for too long, Clenbuterol tends to lose its beneficial effects.
Clenbuterol may dramatically increase ones cardiovascular efficiency. The bronchodilation provided by this drug may make it easier to breathe and to absorb oxygen through the lungs. Clenbuterol is never to be used year-round. As with any steroid supplement, responsible cycling is a key to success. One reason this supplement is only used in short bursts is because of the common side effect of sleeplessness and the jitters.
Clenbuterol is very similar to Ephedrine in this regard. If you feel shaky while cycling on Clenbuterol, reduce your dose a bit and double up on your water intake. We stock and sell an amazing assortment of equivalent anabolic steroids that are 100% legal to buy and use in the United States. For further information about supplements like Clenbuterol and the other legal steroidal analogs in our catalog, please call 1.941.721.7258 or send us an email to support@bulking-cutting.com